⬥ Save 60% (Limited Time) ⬥
⬥  FREE Shipping Worldwide  ⬥


⬥ 100% Money Back Guarantee ⬥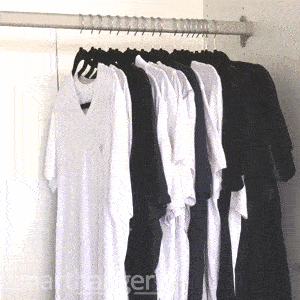 Free yourself from the frustration of overfull wardrobes! Get organized in minutes and gain 3x more space with the new SmartHanger©.
This clever new 'space saver' simplifies your life and makes organizing and storing a lot of clothes a breeze. 
One SmartHanger© holds 9 garments and saves you 80% of your wardrobe space.



How Does It Work? 
The unique design rotates 360° horizontally and vertically - making it incredibly easy to organize, find and hang clothes.
- Use it horizontally to hang clothes and quickly find anything.
- Use it vertically to store (a lot of) clothes.
Take any item out without pulling 10 others along. 


Clear up even the biggest mess in minutes. With the SmartHanger© you can easily STAY organized.
 
 Save 80% of your wardrobe space
 Organize your wardrobe in minutes
 Quickly Find & pull out any piece of clothing
The 9-hole design uses optimal spacing between garments and allows you to easily pull out just what you need.
It ensures that your clothes always stay neat and wrinkle free. It makes arranging clothes by colour, type or style super simple. 
The SmartHanger© is reinforced and made from ultra strong Polypropylene. It is smooth with NO metal and will never rip or tear any clothes. It also has NO mechanical parts that can break.

It easily holds up to 6kg/13 pounds which is ideal for heavy coats.

Instantly increase your storage space. Gain 3 times more wardrobe space in a matter of minutes.


STOP spending hours looking for clothes that you know "should" be in there somewhere.
 Store clothes wrinkle-free

 Holds up to 10kg/20 pounds

 NO metal or sharp ends


Great for storing summer/winter clothes. You can double up (2 hangers per hole) and hang 18 items on just 1 SmartHanger©.

Overfull wardrobes and being disorganized can make you feel stressed and overwhelmed. 
Free yourself today. Let your wardrobes 'breathe' again and get organized with the SmartHanger©. 


Get up to 60% OFF (Limited Time)
FREE Shipping Worldwide
100% Money Back Guarantee